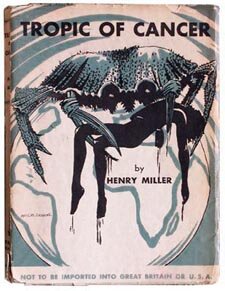 This was probably the most interesting thing to come across in school today--not to underestimate the legal realism (let's get on to legal formalism already!!!)---one of many obscenity cases that arose from the publication of Henry Miller's Tropic of Cancer (all the way to the SC!!!). Attorney General v. "The Tropic of Cancer"... a landmark case which was the Mass. Supreme Court ruled in favor of the Tropic. Not so in Penn: Tropic "is a cesspool, an open sewer, a pit of putrefaction, a slimy gathering of all that is rotten in the debris of human depravity." So wrote a Penn justice. And I say, let's have more justice-critics!
I understand this topic is a bit out of fashion,but it is the most entertaining thing I encountered in the last three weeks (Long Live Legal Research!!!), other than the arms/
prosti
peddlers in District 9.